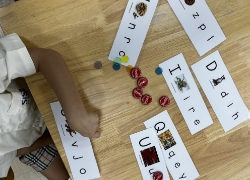 Dynamics Behaviour Analysis had the honour of heading to Thailand to conduct services for a client. During this work trip, we were able to work closely with the child, their parents/caregivers, their therapists, and their teachers. This enabled the team to provide a critical insight into the needs of the child and to integrate these various aspects of the child's life into his programming.
Services

Methodology

School Observations

Headed into the school setting to observe how the child is currently coping.
Provided strategies to the teachers based on concerns raised and observed.
Provided an observation report to parents.

School Shadowing Services

Executed shadowing services to enable the child to follow a mainstream curriculum.
Liaised and communicated with the teachers to better adjust and provide individualized support to the child.

Therapy Observations

Headed into child's current therapy services in Thailand for observation.
Spoke to current therapists to determine what the concerns were regarding child's behavior.
Shared some behavioral strategies with the therapists to ensure child would benefit more greatly from the sessions with less interference from the behaviors.
Provided an observation report to parents.

Parent Training

Conducted in-person parent training on various topics (i.e. mand training; self-help routines; behavior management; etc.).
Guided parents while they worked hands on with their child across self-help routines, communication, etc.

Home-Based ABA Sessions

Assessed the home environment and provided recommendations to maximise the environment for the child's learning.
Conducted therapy in the child's home setting and integrated goals from other aspects of the child's learning environment.

Community-Based ABA Sessions

Conducted parent training in the community teaching leisure skills as well as tagging.
Focused on leisure skills such as scootering and cycling to promote positive interactions with the child in the community setting.
Worked on getting the child to follow parents and caregivers appropriately in a safe manner whilst in the community.
Conclusion:
Dynamics Behavior Analysis is happy to help clients worldwide. We take pride in our ability to cater to all aspects of our client's life, enabling us to better support our clients and their parents, where and when the need arises, in order to allow our client's time to be most effectively spent. We are dedicated to helping all individuals thrive in all environments should they have a need for services.