Therapy @ Home - Accessible to all Children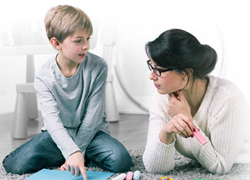 Dynamics Therapy Centre for Kids also offers home based therapy for Occupational Therapy and Speech Therapy services. As a leading therapy provider in Singapore, we feel it is important that our services are accessible to all our clients. We hence offer you the options of a clinic based appointment and/or the ability to be seen in the comfort of your home.
Our therapists carry all required materials like games and pictures that aid in therapy to your home.