Issue 84 | June 2021

How to be an Effective and Better Parent
Choosing to become a parent can always make one apprehensive. On the other hand, individuals and couples who may already have a child, may at times get stuck with issues like shifting parent- child relationships, difficulty understanding the physical, social and psychological changes of one's child, difficulty in understanding their child's behavior,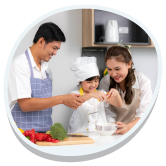 teenage-related conflicts, so on and so forth.
In addition to this, parents sometime fail to adjust their marital system to accommodate the space and time for children. Some couples also feel that their privacy and lifestyle is affected after the birth of a child; identifying and understanding parenting roles; inadequate quality of time spent by working parents; meeting high expectations and demands from children; as well as financial impact of having children- these can all be pain points for parents.
These common issues occur as parents and couples ignore to identify one's family's needs and priorities, or perhaps they are unable to determine the family's resources and capabilities for the change that is to ensue. In addition to this, couples also need to take into considering that during their child's developmental process (i.e. Birth—Infant— Pre—School—School Age—Teenagers—Young Adults), every stage herein requires consistent training and skill to enhance one's child's development holistically and furthermore, requires adjustment from the parents side in terms of what is required from them as a parent.

Tips to be a more Efficient and Better Parent:
Carve some free time for yourself: Mother & Father individually.
Make a routine. Help your child set his own goals. Get him/her organized for school by giving them a planner to keep track of assignments and activities. Help your child find after-school programs and activities that interest them as well.
Make clear rules and stick to them. Be clear and consistent when disciplining your child.
Accept help from other family members or friends.
Read to children and plan fun activities with them.
Let your child help with simple chores.
Support your child's language development by speaking to him/her in complete sentences and in "adult" language.
Foster a wholesome attitude towards learning and healthy habits - like explaining your child about respecting others, and grounding them with morals and values.
Keep your child relaxed and happy. Stay calm when your child is upset.
Appreciate your child and try to relate to them. At the same time, do not draw comparisons with other children.
Remain engaged in your child's education, and meet with teachers or counselors yearly.
Help your child in their search for future career paths, and research colleges with them if you decide it's the right path for them.
Although your child may want you to be less involved in their life, continue to help them with schoolwork, remain a resource for them and help them to stay organized and focused.

Pankhuri Pilania
Counselling Psychologist


Pankhuri is a Counselling Psychologist, and holds a Master's Degree in Clinical Psychology and a Diploma in Guidance & Counselling. She has intensive experience in working with adults, adolescents and children with depression, anxiety disorders, eating disorders, ADHD, Social-Emotional difficulties, Learning difficulties, Academic Disorientation and Inter/Intrapersonal Conflicts.
10 questions with our employee spotlight of the month, click here.
Want to make an appointment with
a Counselling Psychologist?
Get a Free Trial Session with a Counselling Psychologist.

50% Off Telehealth@Dynamics
Are you self-isolating? Worried about travelling on public transport or meeting others?


Free Trial Session
Dynamics Therapy Centre for Kids understand that it may be a risk to book a therapy session with any centre without being certain that it is a good fit for your family. As such we would like to remove this hurdle and offer you a free trial session with our experts.


Free 2 Days TRIAL at Dynamics International School!
Arrange for a school visit and set dates for trial.
Attend the trial days in DIS.
Post-trial feedback.
Career Counselling Services
Adolescents are faced with many choices and pathways in their education, and it can be confusing when they do not have a plan of what they would like to do in the future.
Physiotherapy at Dynamics
Physiotherapy at Dynamics targets infants, toddlers, children and adolescents with a variety of congenital, neuromuscular, orthopaedic, acquired disorders and developmental delays.

Stay in touch with Dynamics and keep up to date with therapy tips at our following links:

We have a large team of speech and language therapists, occupational therapists,
educational therapists, psychologists, teachers & all supported by our administration team.
You can be assured that at Dynamics you only get the best, from the best!

© Dynamics Therapy Centre for Kids Pte Ltd. All rights reserved.