Attention Deficit Hyperactivity Disorder (ADHD) is a neurodevelopmental disorder that affects about five per cent of children worldwide. ADHD is the most commonly diagnosed mental disorder amongst children and teenagers in Singapore, and is four times more common in boys than girls.
Children with ADHD often find it difficult to sit still, concentrate on tasks, remember important things, or consider the long-term consequences of their actions as the condition affects their ability to organise, plan and manage their thoughts and actions. They may also experience relationship problems due to poor impulse control and frequent emotional outbursts.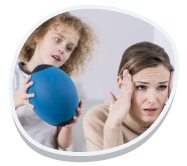 While it is normal for children to present some of these behaviours, children with ADHD tend to display inattention, hyperactivity, and impulsivity in a more severe and persistent pattern, across more than one situation, which may affect their academic performance and relationships with others.
ADHD cannot be cured and the symptoms may continue into adulthood. However, with early diagnosis and intervention, ADHD symptoms can be successfully managed and may improve as the child gets older.

Strategies to Help Children and Adults with ADHD Stay Focused and Thrive
For Children:
Establish a routine. Set up a daily schedule collaboratively with your child to create consistency and help him/her anticipate times when increased concentration is needed. Consider scheduling tasks demanding the most attention in the morning because children with ADHD tend to lose focus as the day progresses.
Break down activities into manageable portions. Try to break down activities into small steps and allowing your child to take a brief mental break after completing one page or a section of an assignment so he/she will be able to maintain the mental energy needed to complete the assignment.
Stop. Think. Do. Teach and encourage your child to "stop" before acting impulsively, "think" about the effects of his/her intended action and verbalise what he/she plans to do, and "do" the chosen course of actions.
Provide praise and encouragement. Offer small, frequent and constantly repeated feedback and incentives when your child displays desirable behaviours and effort to increase awareness to what he/she is doing and reinforce the positive results. Rewards can be very simple things or activities like having a tea break or taking a short walk.

For Adults:
Create a daily focus list. Get into the habit of making daily lists of major priorities and "things to-do" at the beginning of each day. Organising ideas into lists and categories can help a person with ADHD to focus on what's really important and develop a sense of control.
Set specific deadlines. Having specific deadlines help to eliminate competing priorities and boost adrenaline, thus making it easier for a person with ADHD to dive into hyperfocus and get going on things rather than procrastinate on them. Consider assigning clear deadlines for tasks with no agreed end point, for example: "Go to the post office on Thursday at 4pm."
Find a partner. Recruit an "accountability partner" – a close friend, family member or co-worker – to hold you accountable for your tasks and goals. Doing things with someone else can make it more fun and also make it less likely for a person with ADHD to take long breaks or wander off task. Often, this is a win-win, as you can act as an accountability partner, to your partner as well!