If you are unable to view our Newsletter Issue 88, October 2021, view in browser.

Issue 88 | October 2021

We have been trying to keep up with a "different normal" at home and school/work during the COVID-19 pandemic. The ever-changing situation, demands and regulations could be taking a toll on our mental and physical health. As much as we desire to, we would not be able to do anything with these changes as they are beyond our control.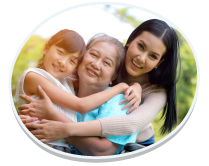 The good news is, there are still some things we can do to improve our current situation! We can focus our efforts on "controlling what we can control". And one good way is to practise gratitude. By expressing gratitude for every minor thing that happens in our daily life, we can enhance the well-being and life satisfaction of ourselves and our family members.
Practising gratitude is a method used in positive psychology, a subfield of psychology that has garnered much attention in the recent decade. Numerous researches have shown that practising gratitude daily can significantly improve physical and mental health, enhance self-esteem, increase mental strength, improve the quality of sleep, reduce aggression, boost concentration and productivity, and foster better relationships with family, friends and the community.

3 most popular gratitude exercises for every family member:
Encourage Gratitude Reflections
One important gratitude exercise you can organise is a Gratitude Reflection time, whenever the family gathers for meals or snacks.

You, as a parent or spouse, can initiate by asking every member of the family to talk about at least one happy moment, which they are thankful for, that they had experienced during the day. Encourage them to express their gratitude by talking about the things they are most grateful for that day.

You can kickstart this Gratitude Reflection exercise by being a role model, showing your young children or other family members how this exercise works. The reflection can also be about little daily pleasures as well, such as being grateful for the delicious breakfast that you had, hearing good news from a friend, receiving an email that made you happy, video-calling your friend and having a quality conversation, and feeling the comforting warmth on your skin on a sunny day or after a relaxing hot shower, among others.



Pro tip:

No one should skip or be excluded from this evening Gratitude exercise. Respect everyone's sharing and encourage them to open up and talk more about themselves. They do not have to share only about major events or happenings, even small moments of happiness can be expressed as part of the family's Gratitude Exercise. Keep it going, every day!
Keep a Gratitude Journal
This method allows families, who prefer keeping their reflections private, to delve into this exercise. Each member of the family can purchase or create a customised notebook to use as their personal "Gratitude Journal". You can add this exercise to your family's chore chart and remind your children to do this every day.



Pro tip:

You can also use an online journal since there are a variety of Gratitude Journal apps available on your smartphones and/or laptops.
Have a Gratitude Jar
Decorate a jar however you or your children wish and name it "Gratitude Jar" (label it with a nice sticker). Place the jar in a visible location of your home, along with some pre-cut colourful paper strips and a pen/pencil.

Explain to every member of your family how it works: think of at least three things that happened during the day which you are grateful for, write these on the paper and drop the paper into the jar.

Watching the jars fill up can help remind everyone about all the things we were grateful for! During special occasions, such as the end of the year, thanksgiving, or birthday celebrations, every member of the family can take some papers out of their jar and read them aloud to one other.



Pro tip:

Each family member can choose a specific colour for their papers. This can visually encourage your children not to miss out on any day to practise gratitude.

Dr. Sonia Khodabakhsh
Clinical Psychologist


Dr. Sonia is a Clinical Psychologist with over 10 years of experience in different settings such as private practice and community mental health centres offering a full range of psychological interventions for individuals, couples and families. She graduated with a PhD in Educational Psychology from the University of Malaya in Malaysia, Master in Clinical Psychology, Degree in General Psychology, and Certificate in Training Pre-school Trainers from Iran.




Click here to get up close and personal with Sonia!




Discount for Adult Psychology
We are offering a limited-time discount for our adult psychological services at Dynamics Psychological Practice. Enjoy your first session at an exclusive price of $50 (U.P. $220)!
Free Trial or Discounted Session
Dynamics Therapy Group understands that it may be a risk to book a therapy session with any centre without being certain that it is a good fit for your family. As such we would like to remove this hurdle and offer you a free trial or discounted session with our experts.

Applied Behaviour Analysis (ABA) FREE Online Consultation
Book your free online consult with our ABA professionals to learn more about ABA, discuss about your child's best course of action, and more.
FREE Online Sharing Series @ Lunchtime for Parents
Motivation and Learning
Learn how ABA can be implemented to support your child's behaviour.
Learn how to identify and use motivators effectively
Explore ways to communicate and engage with your child
FOOD-Tasting & TEAM-Building Workshop
Ms Cécile Le Minh (Sensory Food Educator & Nutritionist) serves up a buffet of fun and educational activities and practical nutritional tips at this delightful Workshop. Get ready to tuck into a multisensory experience of enjoying food using all your 5 senses — while interacting and bonding with your colleagues!


Connect with us—and keep up to date with our expert tips, exclusive promotions, and latest news.

We are a vibrant multidisciplinary team of Speech and Language Therapists, Occupational Therapists,
Physiotherapists, Psychologists, Nutritionist, Educational Therapists and Teachers.
At Dynamics Therapy Group, you can be assured that you only get the best, from the best!

© Dynamics Therapy Centre for Kids Pte Ltd. All rights reserved.