Issue 90 | December 2021

Bilingualism refers to the ability to use two languages in everyday communication. Being bilingual, or even multilingual, is not unheard of in Singapore as well as in many parts of the world (Li Wei, 2000).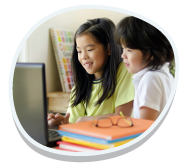 In fact, more than half of the world's population is bilingual (Bialystok et al., 2010)!
This article hopes to highlight key facts about early bilingualism and dispel any myths or misunderstandings when it comes to raising bilingual children.

Myth 1: Children who are learning more than one language should not be encouraged to mix words from both languages in one sentence.
Fact: Mixing languages within a sentence, which is also called code-switching, is a common feature of bilingual language development. One of the reasons some children code-switch is because it is a common occurrence in their communities (Comeau et al., 2003). The ability to engage in fluent code-switching is a marker of linguistic competency (Hughes et al., 2006) and creativity of bilingual language use (Beatty-Martinez, 2020). The ability to navigate and integrate both 'home language' and 'school language' indicates an intellectual advantage, as opposed to the traditional view, where code-switching is perceived negatively.
Myth 2: To help a child learn English and to prevent confusion, English should be the only language used at home.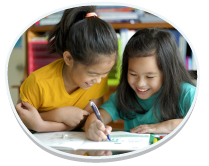 Fact: Parents should be encouraged to speak in a language that they are most proficient in and feel comfortable with. It is crucial that children are exposed to a good language model during their formative years as strong knowledge in their first language works as a foundation for learning a second language effectively. Extensive research around the world has found that children with strong reading skills in their first language also have strong reading skills in their second language (Riches & Genesee, 2006).
Myth 3: Speaking more than one language places extra demands on a child who is learning a language.
Fact: There is no evidence to support this claim. In fact, multiple studies from researchers around the world have shown that bilinguals outperformed monolinguals in a range of cognitive and social tasks (Kovaacs and Mehler, 2009). This includes executive functions related to selective attention, inhibition and problem-solving.
Raising bilingual or multilingual children can be challenging yet rewarding. Persistence is the key to keeping your child motivated to use their mother tongue and cultivating positive attitudes towards using it.
| | |
| --- | --- |
| DO's | DON'Ts |
| Do continue to talk to your child in the language you feel most comfortable with. | Don't stop using your 'home language', even if your child is diagnosed with a language disorder. Adding another language will not make any difference to put an extra burden on your child. |
| Do set realistic goals for your bilingual child. Avoid comparing your child to other children's language development. | Don't worry when your child is mixing languages (this is common and natural for bilingual speakers). |
| Do make good use of TV programmes, books and social events to help your child gain more exposure to their mother tongue. | Don't make any negative comments about your child's attempts to communicate in their mother tongue. Instead, model the correct sentence structure for them. |

Eva Chan
Speech Therapist


Eva qualified as a Speech and Language Therapist in the United Kingdom with a Bachelor of Science in Speech and Language Therapy from Leeds Beckett University. Prior to joining Dynamics, Eva has worked with the paediatric population extensively in nurseries, schools, clinics and children centres in the UK. She is dedicated to providing children and their families with the skills and support necessary for them to reach their full potential.




Click here to get up close and personal with Eva!

Holiday Camps 2021-2022
Learn more about the fun and educational programmes we have lined up for your children. Limited slots are available, sign up now to avoid disappointment.
Therapy@Home at Your Convenience!
Tied up at work and and not able to attend therapy at the centre?
Have a busy schedule at home?
Your child has a challenge adjusting to new places?
We can help you with Therapy@Home. Find out how.
School Shadow Support
Our goal is to help your child integrate seamlessly into his/her mainstream school environment and excel academically and socially at school.
Discount for Adult Psychology
We are offering a limited-time discount for our adult psychological services at Dynamics Psychological Practice. Enjoy your first session at an exclusive price of $50 (U.P. $220)!
Free Trial or Discounted Session
Dynamics Therapy Group understands that it may be a risk to book a therapy session with any centre without being certain that it is a good fit for your family. As such we would like to remove this hurdle and offer you a free trial or discounted session with our experts.

Applied Behaviour Analysis (ABA) FREE Online Consultation
Book your free online consult with our ABA professionals to learn more about ABA, discuss about your child's best course of action, and more.

Connect with us—and keep up to date with our expert tips, exclusive promotions, and latest news.

We are a vibrant multidisciplinary team of Speech and Language Therapists, Occupational Therapists,
Physiotherapists, Psychologists, Nutritionist, Educational Therapists and Teachers.
At Dynamics Therapy Group, you can be assured that you only get the best, from the best!

© Dynamics Therapy Centre for Kids Pte Ltd. All rights reserved.