Stress arises when we perceive that the challenges we are confronting exceed our ability to handle them effectively.
Everyone experiences stress and it can come from a variety of sources such as:
For school-aged children: Overwhelmed school work, worrying about school grades, problems with friends, bullying, peer group pressures, changing schools, juggling their responsibilities such as school and sports, seeing parents go through divorce or separation, or having negative thoughts about themselves, etc.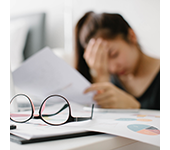 For parents: Managing a child with a difficult temperament, medical, emotional or behaviour problems, financial and relationship problems, etc.
For adults at workplace: Tight deadline at work, overwhelmed workload, back-to-back meetings, or disagreement with a colleague or your manager at work, etc.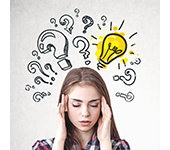 Small amount of stress can be good as it can help us perform better and enhances motivation.
Excessive stress can create hardship and challenges that can affect the way an individual thinks, acts and feels.
Children may not recognise that they are stressed. Also, your teens or loved ones may not want to tell you that they are experiencing stress. You can help to identify key signs by watching out for negative changes in their behaviour. Common changes can include:
Acting irritable or moody
Withdrawing from activities that they used to enjoy
Routinely expressing worries
Complaining more than usual about school or work
Crying, displaying surprising fearful reactions
Sleeping too much or too little
Eating too much or too little
Complaints about frequent stomach aches and/or headaches
Nightmares
With teens, it is also good to watch out for behaviours such as abandoning long-time friendships for a new set of peers, significantly avoiding parents or expressing hostility towards a family member.
Look

out for signs of stress and distressed reactions such as feeling nervous, fearful, restless, tense, uncontrollable crying, being withdrawn and negative changes in their behaviour.
Listen

to words and negative statements that they may say about themselves, others or the world around them. For example: "No one likes me", "I am stupid", "Nothing I do matters". Ask them what they mean. Refrain from providing solutions quickly or reacting negatively to what had been said.
Link

them with a mental health professional such as a psychologist or counsellor, if you think they are experiencing significant symptoms of stress.
References:
Deater-Deckard K. 1998. Parenting stress and child adjustment: Some old hypotheses and new questions. Clinical Psychology: Science and Practice. 5:314–332.
American Psychological Association: (July 6, 2022) Identifying signs of stress in your children and teen. https://www.apa.org/topics/stress/children
World Health Organization: Psychological First Aid: Guide for field workers