1. Include a Sensory Diet Plan
Meeting the sensory needs of children with ASD is crucial for their regulation, as they often experience challenges in sensory processing. Sensory activities can be helpful in channeling their energy and attention, whether they require calming input or energizing stimulation. Incorporating appropriate sensory activities throughout the day, rather than just one long play session, can be more effective. Consider the following examples of sensory diet activities that can be practiced in a home environment.
Physical activities are the easiest to start with for children who can tolerate movements better. They use large core muscles while inducing a good amount of sensory stimulation.
Animal walks e.g., bear walk, crab walk, frog jump, bunny hop, snake slither etc.
Wheelbarrow walks
Riding bicycle/scooter
Running/playing catch
Jumping jacks
Wall push ups
Bouncing on a large gym ball
Pushing/pulling heavy objects
Deep pressure squishing with pillows or hugs
Tactile
Play with dry textures
e.g., playdough, theraputty, sand, dried beans, uncooked rice, chalk etc.
Play with messy textures
e.g., water beads, flour, mud, paint, foam, slime, shaving cream
Fidget toys
e.g., stress ball, spinner
Auditory
Noise cancelling headphones/earmuffs
Play favorite music on headphones/white noise
2. Use of Visual Supports/Schedules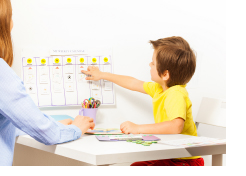 Visual supports are an effective tool for supporting children with ASD. They are easier to understand and identify than verbal or written instructions, particularly when a child is feeling tense or anxious. Different children respond to different types of visuals - some may benefit from images of their environment, while others may require concrete items such as a toothbrush or spoon. Creating a daily visual schedule with specific routines, like toothbrushing and mealtimes, can be helpful in reducing anxiety by providing a predictable sequence of events. By incorporating these visual aids, your child can better anticipate what will happen next, leading to a reduction in stress levels.
What does your child respond well to?