According to the British Dyslexia Association, Dyslexia is a learning difficulty that primarily affects the skills involved in accurate and fluent word reading and spelling. Characteristic features of dyslexia are difficulties in phonological awareness, verbal memory, and verbal processing speed. Many individuals with dyslexia also have difficulty processing and remembering information they see and hear, which can then affect their learning and the acquisition of literacy skills.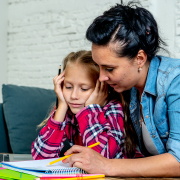 Did you know: Dyslexia is a condition that often runs in families. As it is linked to genes, an individual is more likely to have dyslexia if their parents, siblings, or other external family members have it.
Early signs of Dyslexia could include
Difficulty learning nursery rhymes
Difficulty recognizing familiar/high frequency words
Reading is hesitant and effortful
Failure to understand what is being read
Misreads common words
Substitutes words of similar meaning
Ignoring punctuation
Loses place in a line of print
Events & Promotions
Dynamics Therapy Group
Satisfied or MONEY BACK GUARANTEED!
Book a Risk Free Occupational Therapy or Speech Therapy Assessment...
Dynamics Therapy Group
All Inclusive Package!
10% off on 10 sessions including the assessment fees!
Dynamics Speech Therapy
Speech Therapy Holiday Camps 2022
Come join Dynamics' Speech Camps, that are fun, engaging and will help develop your...
Dynamics Success Centre
Occupational Therapy Camps
Join our school holiday Occupational Therapy camps on Gross Motor Skills, Fine Motor Skill...
Tips
How to Help my Child with Dyslexia at Home
Practice phonics
Individuals with dyslexia have phonological deficit. The first step to improving phonological awareness is rhyme awareness. Practice and sing nursery rhymes for younger kids and work on smaller units of sounds such as syllabus/ phonemes with slightly older kids. This enables them to form better concrete associations between print and the sounds they hear.


Reading with your child.
Take turns reading out loud books of interest to your child. Encourage your child to read every day for 10-20 minutes. Ensure that text is appropriate for their reading level, as this will help with vocabulary and comprehension development. Talk about what has been read and ask open ended questions to foster active engagement, stimulate discussions, build on creative and critical thinking skills.


Play word games/activities
Playing games like Scrabble, Hangman, Jeopardy-like games helps increase lost or forgotten vocabulary and introduce new words that your child might otherwise never get to know. As your child expands their vocabulary library, it becomes easier to organize and express thoughts, improve on spelling, train concentration/cognitive skills, improve memory and not to mention building up on their own self-confidence.


Multisensory learning
Make learning a multisensory experience. Instead of the typical pencil and paper, try using a variety of other materials such as magnetic alphabets, sand, dough, and even whipped cream to form letters. As you include the other senses, your child may retain more of what they see, hear, say, and do.


Celebrate success and embrace
Parent's understanding and support is crucial when building confidence in their child. Provide opportunities to celebrate their strengths, successes, and other positive attributes so that they are aware of their own strengths and skill sets. Encourage an open communication regarding difficulties and struggles, as it allows for acceptance and understanding of problems as well as ways in which they can compensate for them.
Employee Spotlight
Ellycia Sasha
Psychologist

Having practiced as a psychologist in the educational field, Sasha evaluates children based on referrals by teachers, Allied Health professionals, and parents. She also conducts appropriate assessments with children who are struggling in certain areas as well as for those who are gifted.

Click here, to get up close and personal with Ellycia!