Help Children Suffering from Anxiety during COVID-19
Listen to Their Concerns
Allocate time and space for children to express their concerns through words or play. Avoid immediate correction of inaccurate facts before they finish expressing their view. Assure them that it is alright to be worried as most people experience the same, and hence they are not alone. Hug or pat them on the shoulder if this helps them feel secure.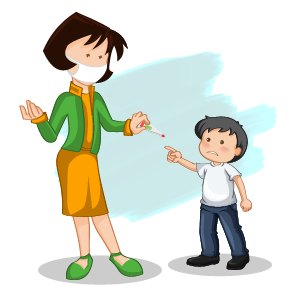 Reassure and Redirect
Reassure children that everyone is doing their best to ensure that they are safe and secure, including the government, teachers, doctors, nurses and adults in the family. Provide them with positive accurate news such as people recovering from COVID-19, and the subsequent slowdown of the contagion following appropriate preventive measures.
Empower Them with Accurate Information
If children are misinformed about the COVID-19, try to find out where they obtain this information from, and subsequently explain why these are inaccurate information sources. For children who do not attend formal schooling, parents can refer to the resources available on the MOH website.
Keep to a Regular Routine
Create a daily schedule that has well-balanced activities that revolve around learning, playing and relaxing, eating and sleeping. Try to follow the schedule accordingly and avoid change that is unnecessary. Inform children if changes to their routine is needed and let them know ahead of time.
Move It!
Exercise together with children at home - the exercise can range from impromptu dance moves with random music to more well-planned fitness workouts (refer to available online resources such as YouTube). Besides improving the body's immune system, exercise helps to regulate emotion, and strengthens one's bond with children if it is done together.
Take Good Care of Ourselves
It is important to take good care of ourselves despite being busy. It is also important for us to monitor our anxiety level as it influences how we interact with our children and the anxiety can pass on to them. Remember to have a work-life balance schedule, balanced diet, exercise, rest and emotional support from other family members and colleagues.