Issue 57 | January 2019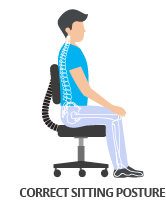 What is good posture?

Good posture is the position in which you hold your body upright against gravity while standing, sitting or lying down.
Good posture involves training your body to stand, walk, sit and lie in positions where the least strain is placed on supporting muscles and ligaments during movement or weight-bearing activities.
Why is proper posture important?

Keeps bones and joints in the correct alignment so that muscles are being used properly
Helps to decrease abnormal wearing of joint surfaces
Decreases the stress on the ligaments by holding the joints of the spine together
Prevents the spine from becoming fixed in abnormal positions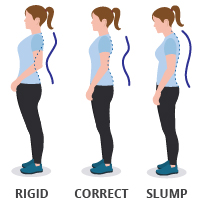 What contributes to bad posture?

Weak muscles
Tight muscles; or decreased flexibility of the muscles (typically we find this in children with cerebral palsy or with various neuro motor disorders)
Poor sitting and standing habits
Poor work environment – height of desk and chair
Obesity
How Occupational Therapy can help

Therapists can assess what is the underlying cause of poor postural patterns
Strengthen deep core postural muscles
Work on balance
Work on coordination, especially of both sides of the body and brain
Modify the environment

After School Care Program
The After School Program (ASP) is designed to care for the students in our safe and comfortable environment after their attendance in EIP. Students will be able to rest, learn and play in a controlled and familiar setting allowing parents ease of mind about their child's welfare and progress in a day care setting.
Extended Early Intervention Program
The Extended Early Intervention Program (EEIP) is designed for increased intensity of early intervention for the student. Students will receive more contact time in group therapy and have more opportunities to practice and generalize skills learnt in various settings.
Dynamics Toddlers Program (DTP)
Our program is designed to prepare the toddlers for playgroup setting and addresses the developmental needs of the child individually.

As a Dynamics Kids Club member, you get to enjoy privileges across various partners listed here.
Dynamics Kids club annual membership programme can be obtained at the beginning of each year after purchasing a therapy session or package with Dynamics. Featured below are some of the new members of our club and their corresponding promotions.
California Kitchen 15% Off ala carte menu for dine-in and 10% off for takeouts only

The T&C's are as follows:

Please present your membership card before ordering.
Discount cannot be used in conjunction with in-house promotions, set menus, seasonal offers and privilege discount schemes organised by credit/discount cards and other dining vouchers.
Valid till December 2019.
Cosmo Restaurant and Wine Bar 18% Off dining bill

The T&C's are as follows:

Not valid in conjunction with other promotions or lunchtime promotional menu.
Valid till December 2019.
GNC Live Well 15% Off regular-priced health supplements

The T&C's are as follows:

To enjoy the discount, Kids Club card or Dynamics Therapy Staff/Business card must be presented upon payment for verification.
Discount privilege excludes food items, nett priced items and special discounted items.
Not valid with other promotions, VIP privileges, discount cards or vouchers.
Valid till December 2019.

Dynamics Therapy Centre for Kids is affiliated with:
We have a large team of speech and language therapists, occupational therapists,
educational therapists, psychologists, teachers & all supported by our administration team.
You can be assured that at Dynamics you only get the best, from the best!

Please contact for more information details at 6734 2634 | 6100 9235 or email inquiry@dynamics.com.sg