Issue 58 | February 2019

Children playing with each other.

We have talked a lot about the importance about playing WITH a child. What about children playing with each other? Isn't that important too?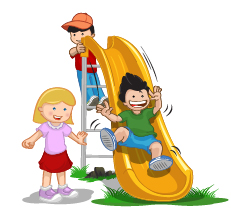 Adults lose the ability to "play". We often find it difficult to play with our children in ways that are most beneficial to them. This is where allowing children to play with other children without parents interfering, is really important.
Adults can unknowingly dominate playtime with their child and be quick to jump in to problem solve on behalf of their child, robbing their child of learning these social problem solving skills practically.
Children on the other hand, often engage in free play where anything goes. When children engage in play with one another, they are given an opportunity to create and develop their own play experiences with the influence of an adult directing what should be done and why.
When children play without parental interference, they develop understanding of how to communicate appropriately with other children and develop skills in problem solving, understanding relationships and can be required to stand up and speak up for themselves.
Here's a playing checklist just for you:

Choose an activity that your child enjoys.
Model words and phrases for them in your own play. Your child is more likely to pick up words and phrases when they see how and why they are used.
Pretend play! Don't be limited by what you think should be done with a toy. Use the cup as a hat, play dress up!
WAIT. Use pauses for your child to be able to fill and comment on what they are doing.
Mix it up and play in different places. Table, floor, outside!
Most importantly, just have FUN!

After School Care Program
The After School Program (ASP) is designed to care for the students in our safe and comfortable environment after their attendance in EIP. Students will be able to rest, learn and play in a controlled and familiar setting allowing parents ease of mind about their child's welfare and progress in a day care setting.
Extended Early Intervention Program
The Extended Early Intervention Program (EEIP) is designed for increased intensity of early intervention for the student. Students will receive more contact time in group therapy and have more opportunities to practice and generalize skills learnt in various settings.
Dynamics Toddlers Program (DTP)
Our program is designed to prepare the toddlers for playgroup setting and addresses the developmental needs of the child individually.

As a Dynamics Kids Club member, you get to enjoy privileges across various partners listed here.
Dynamics Kids club annual membership programme can be obtained at the beginning of each year after purchasing a therapy session or package with Dynamics. Featured below are some of the new members of our club and their corresponding promotions.
Vitakids 10% Off minimum purchase of $50 for supplements, natural remedies and personal care products

The T&C's are as follows:

Valid only for regular priced dietary supplements, natural remedies and personal care.
Not applicable for blue-tagged merchandise, F&B and home care products.
Not applicable in conjunction with any promotional items or VPP+ member discount.
Must show Dynamics Therapy membership card.
This promotion is valid till 31st December 2019.
Playhao Complimentary gift with purchases over $35.

Gift
The gift is a German-made matchbox puzzle, BAERENPRESSE Picoli Puzzle worth $5.95.

The T&C's are as follows:

Applicable for in-store purchases only.
One-time redemption per customer.
Valid till December 2019 or till stocks last.
Cannot be used in conjunction with any other promotion and membership point accumulation.
SuperNature Naturally Organic Become a SuperNature Member and enjoy 5% discount off all subsequent purchases. Minimum spend to join the membership, reduced to $120 for Dynamics Therapy Kids Club members.

The T&C's are as follows:

Membership is a SuperNature Temporary Membership only.
5% discount applies for 1 year on all regular-priced items purchased from SuperNature stores and online, except Farm-Boxes, hampers, bulk purchases, promotional items, vouchers and delivery charges.
Minimum spend of S$120 required in a single receipt from SuperNature Forum only.
Must complete the membership form and agree to members terms and conditions for discount to be applicable.
Must show Dynamics Therapy membership card.
This Promotion is valid from 15th November 2018 to 31 December 2019 unless otherwise stated.

Dynamics Therapy Centre for Kids is affiliated with:
We have a large team of speech and language therapists, occupational therapists,
educational therapists, psychologists, teachers & all supported by our administration team.
You can be assured that at Dynamics you only get the best, from the best!

Please contact for more information details at 6734 2634 | 6100 9235 or email inquiry@dynamics.com.sg