How to facilitate dialogic book reading at home: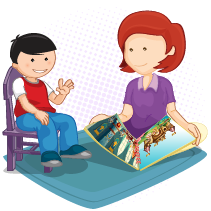 Prompt: Prompt your child to say something about the book.
E.g. "What do you see?"
Some ways you can prompt your child include:
a. Sentence completion
Encourage your child to complete a phrase
e.g. "I see a ___."

b. Recall
Ask questions about the book that the child has already read e.g. "Can you remember what happened to the truck?"

c. Open-ended questions
Ask your child to describe what they see in the book

d. Wh-questions
'who', 'when', 'where', 'what', 'why' and 'how' questions

e. Distancing
Ask questions from the story that relate to everyday life.
Evaluate: Evaluate your child's responses.
E.g. "That's right! Truck."
Expand: Expand on your child's responses by adding more information to what they say.
E.g. Child: "truck". Parent: "Red fire truck!"
Repeat: Encourage the child to repeat the expanded response.
E.g. "Red fire truck. You say!"
References:
Whitehurst, G.J. (2002). Dialogic Reading: An Effective Way to Read Aloud with Young Children.
Retrieved from https://www.readingrockets.org/article/dialogic-reading-effective-way-read-aloud-young-children

Morgan, P., & Meier, C. (2008). Dialogic Reading's Potential to Improve Children's Emergent Literacy Skills and Behavior. Preventing School Failure: Alternative Education For Children And Youth, 52(4), 11-16. doi: 10.3200/psfl.52.4.11-16